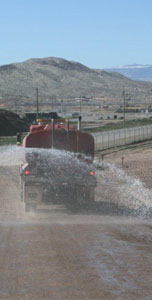 Posi-Clear® eliminates nuisance dust by bonding surface fines into a cohesive layer, therefore delivering long-lasting protection for expansive windswept areas. It also significantly reduces watering frequency on heavily trafficked haul roads. Posi-Clear® is the perfect solution for managers of flyash monofills, industrial waste facilities, solid waste landfills, remediation projects, quarries, and mines. The product is a powdered cellulosic polymer that mixes easily with water and can be integrated into most existing watering protocols. Posi-Clear® is not a liquid or a chloride which makes it environmentally friendly and easy to ship, store, and use.
Posi-Clear® Dust Control is a natural cellulosic polymer that is packaged in convenient 50 lb (22.7 kg) bags. This patent-pending dust palliative arrives in powdered form, is biodegradable, non-toxic, and does not contain chlorides.
Posi-Clear® is simply mixed with water and applied using any standard hydroseeding unit or water truck. When freshly applied the product has a milky appearance, but is virtually invisible when dry. If desired, trace coloring may be added for application tracking.
Below you can download resources and legal documentation on Posi-CLEAR® and related products.