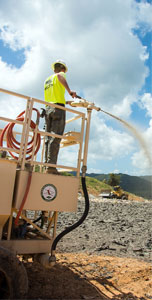 Posi-Shell® is a patented blend of clay binders, reinforcing fibers, and polymers that, when mixed with water or leachate, produces a spray-applied mortar that dries in the form of a thin durable stucco. Regardless of the weather, Posi-Shell® adheres to any surface and is effective in wet and dry forms.
Posi-Shell®'s unique properties enable the use of durability enhancers to achieve long-term coatings that remain erosion resilient for more than a year.
Posi-Shell® is packaged in 50 lb (22.7 kg) bags or 500 lb (226.8 kg) bulk sacks and mixing is accomplished using LSC Equipment or standard hydroseeding units.
Below you can download resources and legal documentation on Posi-Shell® and related products.